Wellllllll, I took some time off from the blogosphere. I simply needed a break. Aside from working crazy hours, I've also just realized I'll probably have to move-out of my amazing townhouse. My roommate has decided she's moving to another state & basically left me hanging. If I cannot find a new roommate soon, I will without a doubt be moving into a one bedroom apartment- no more roommates- they SUCK!
Enough of that, last week I wore this outfit. It was warm one day & I had to take advantage of the spring-like temps. It's just a simple cute outfit I threw together. I was embracing spring because I actually wrote "April 20th" on a few forms- ooops.
Hopefully, there's only a few more weeks of frigid temps. Snow is expected today- BLEH!
Cardi: Forever 21// Scarf: H&M// Shirt & Pants: Target//
Shoes: Charlotte Russe// Watch: Michael Kors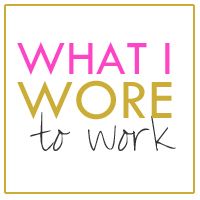 I almost forgot, what do you think of my new haircut?! Not only did I get bangs, but I also lightened my locks to a golden brown. Change feels so good!
xo,
Tiffany